Together, we can reduce hunger, food insecurity, malnutrition, and loneliness. Our program provides a space for socialization among older adults. We promote health and well-being and delay the onset of adverse health conditions. Our seniors enjoy a chef prepared meal among friends. They also have the opportunity to participate in an activity that stimulates the mind or encourages physical movement. In addition, we offer education and resources that our seniors can benefit from through trusted community partners.
Senior Social is happening now…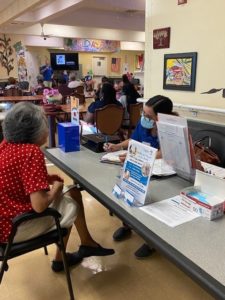 Currently serving seniors at these locations –
Nevada Senior Services | 901 North Jones Blvd, Las Vegas, NV 89108 | Wednesdays from
Manilla Adult Day Care Center | 1330 E Karen Ave, Unit B, Las Vegas, NV 89169 | Tuesdays and Thursdays from 1:00pm – 2:30pm.