Home Maintenance & Minor Repair Program
Home Maintenance & Minor Repair Program
Our services assist Senior Homeowners who currently reside in their Southern Nevada address. Many of our clients simply need help completing a project. Our goal is to provide ease of the mind to our gently aging community.
Services We Currently Offer:
Replace batteries in smoke and/or carbon monoxide detectors
Change out air filters
Replace light bulbs
Minor repair for air conditioner and/or furnace
Unclog Rotor Rooter-Plumbing
Replace and/or fix bathroom sinks
Replace and/or fix bathroom faucets
Replace and/or fix toilets
Replace and/or fix a garbage disposal
Repair P-traps and/or drains
Replace showerheads
Replace and/or fix door handles and locks
Replace and/or fix appliances: Refrigerators, Dishwashers, Dryers, Washing Machines
Services That Are Excluded:
No exterior repairs
Roof repairs, ceiling leaks, painting, flooring, and large plumbing repairs.
Repairing holes in walls
Installation and/or repair of door frames
Installation of water heaters
Installation and/or repair of grab bars
Weather Stripping
Emergency Services Considered:
Water Leak
Toilet Clog
Entry Door Replacement
Air Conditioner (During warmer months)
Heater (During cooler months)
Smoke Detectors
Meet the Home Repair Team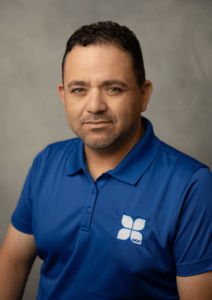 Roger Rubio
Maintenance Technician
Your contribution assists in providing services to our senior citizens at no-cost.
Through volunteerism, you can make a substantial difference in the life of a senior citizen. We rise up by helping others.
702.633.7264
3640 N 5th Street, Suite 130, North Las Vegas, NV  89032